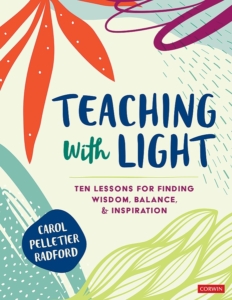 "Carol Radford is a teacher's teacher- one who cares for the caregivers. Full of real-life stories, practical tools, evocative art, and links to podcasts, the book does exactly what its title suggests: shines a light of affirmation and guidance on a noble profession."
Parker J. Palmer, Author of The Courage to Teach, Let Your Life Speak, and On the Brink of Everything.
Are you ready to be a mindful mentor leader?
Our books, resources, online courses and mindfulness tools will support you!
"Your influence begins with you and ripples outward." –Lao Tzu
PAY IT FORWARD!
Enter a key word to find a mentoring topic