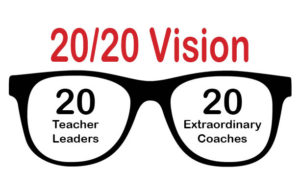 2020 Vision is an Academy of like-minded leaders who are dedicated to supporting mentors and novice teachers in their districts. Each Academy member is participating in a graduate course to learn more about mindfulness, leadership, and how to take action to implement their vision.
Paying it forward…
…to transform education for students by supporting novice teachers and their mentors.
You are invited to apply to…
The Mentoring in Action Leadership Academy Cohort 3!
The purpose of the Academy is to bring together like-minded educators who are dedicated to "paying it forward" to transform education for students by supporting novice teachers and their mentors. Each participant creates a 2020 Vision in this course. Consider applying to the Academy if these statements describe you.
            I am…
An experienced mentor and/or lead mentor in my district/school
Willing to learn more about mindfulness and how it can support my SEL
A teacher who has completed Project SUCCESS, EDU 620, or EDU 716***
Open to new experiences and collaboration with other like-minded mentors
Willing to "step into" my leadership skills and learn how to share ideas
EDU 706 Leaders in Action: Using 20/20 Vision to Support Our Novice Teachers
This hybrid course includes:
3 online modules; Mindfulness, Leadership, and Taking ACTION! (Feb-Apr)
A face-to-face retreat (during a school day in May)
Personalized coaching sessions with the course instructor Carol Radford
Partner sharing with another academy member
A coaching session with an extraordinary coach
3 graduate credits and 67.5 PDPs
ARE YOU READY TO MAKE A DIFFERENCE?
Email jbellville@millburyschools.org to receive an application. Space is limited to 20.
*** or permission of Carol Radford
These professionals donated their time and expertise to mentor the 20/20 Vision Mentoring in Action Leaders . Visit their websites and learn why they are so special.
Meet our Extraordinary Coaches